They sometimes say "History repeats itself" and that saying can not be any less real for Generation Z (Gen Z). Just like the millennial's that witnessed the recession caused by the 2008 financial crisis, Gen Z is welcomed with an economic crisis as created by the corona virus pandemic. The uncertainty and unpredictability of the labor market as seen in the chart below has bought about an uphill battle for Gen Z as they plan  on becoming part of the workforce.
Source (https://data.bls.gov/timeseries/LNS14000000)
Gen Z belongs to the clan of people that are born 1997or later. Having witnessed the 2008 financial crisis through the eyes of their parents and their elders, their perception and attitude towards life and money are different from those of the millennial's. While the millennial's had a sense of financial security, Gen Z was characterized by anxiety and financial stress about work and money. The global coronavirus crisis has bought about the idea of building savings and financial independence on edge. So, I suppose the big question is How can we genuinely help Gen Z get acclimated to their professional careers and explore their pathway to success?
Financial Concepts and Strategy
While Gen Z is financially literate and relies on the millennial's to get most of their financial knowledge, they still need proper financial guidance, resources and education. For example, having seen the millennials struggle to pay their debt off, Gen Z is entirely opposed to debt and lack the importance of building a credit history or to use a credit card. This can be extremely challenging for Gen Z as the cushion provided by the economy to help Gen Z to start building upon their credit has been depleted away by the economic downturn caused by the pandemic. There is always hope, and Gen Z once hired can still with the help of their employers to become more acclimated to the idea of building credit. For example, employers can help make their wealth by automatically deducting a small amount of money from their paycheck and having it be placed in a savings account. This can further help assist Gen Z to buy into financial independence and benefit from it in the years to come.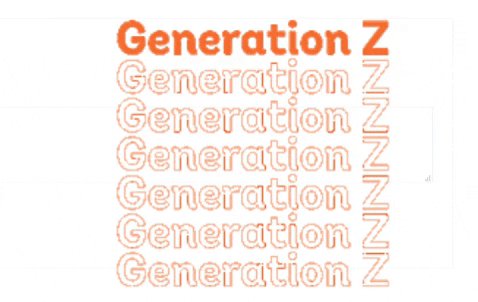 Know Your Customer (KYC |Gen Z)
Just like financial companies invest a considerable amount of capital to explore the idea of Know Your Customer (KYC). Employers would have to apply the same approach when employing Gen Z. Unlike millennials, Gen Z value flexible work schedule. With the pandemic giving rise to the need for a well-equipped virtual environment, Gen Z doesn't mind working from home and would strive hard to get the job done irrespective of the work location. Furthermore, the idea of providing student loan assistance, gym, and work-related training to help advance their career to climb the corporate ladder is something Gen Z value the most. Employers will have to acknowledge this newly developed trait about Gen Z as they try to make financial sense of the pandemic. They will further have to go above and beyond to help manage the burden of stress and anxiety caused by the epidemic by offering a cushion to allow them to manage additional health-related expenses to improve their overall well-being.
Importance of Savings and Retirement
Gen Z is quite aware of the importance of savings, but the concept of savings when it comes to posting retirement can be at best be described as daunting for Gen Z. As the coronavirus pandemic deteriorates the economy while changing the attitudes of the masses on accepting and or rejecting the newly developed status quo, the idea of saving money for thirty or more years in the future can make anyone simply roll their eyes. Employers will have to build a positive attitude and approach for Gen Z to make them realize the significance and importance of savings for their future. They will have to make them understand the importance of savings and expose them through training and webinars on concepts such as 401K and health and savings account. As 401K plan are designated with long term savings in mind, The performance of 401K is not impacted by the daily performance of the stock market. Gen Z would have been realizing the long term importance of the 401K plan as an investment in the program today can reap positive benefits for Gen Z once the market bounces back post-pandemic. Thus, it becomes imperative to monitor and review your 401K account and to consult a financial advisor to select the right options for your plan to help benefit for the future.
The double-edged sword faced by Gen Z while facing the recession of the 2008 financial crisis and the current coronavirus pandemic would require a significant amount of contribution from an employer as they work towards employing the next generation of workforce. As new employees explore and get acclimated to the digital and social distanced world of communication, employers will have to provide them with financial wellness and security. Doing can and will build long-lasting relationships with your employee and help strengthen the core values of any organization.
Please feel free to provide feedback/comments on the article. Please share this article within your network.
If you would like to guest post on Saveprofits.com please feel free to reach out to using the Guest Post link above. As always, for more articles visit Saveprofits.com
Disclaimer: The thoughts shared in the post below are simply a representation of my views and opinion and should not be construed as any financial advice. Please consult a financial professional before making any real financial decision that impacts your life.