The true cost of an Unhealthy Lifestyle
Did you know that leading a healthy lifestyle impacts our wealth directly? We all have our bad habits when it comes to eating healthy food. I am addicted to eating Chocolates like Halloween is my festival as I feel I get the right amount of sugar in just one day. I know I would be better off cutting down on sugar; the joy of eating chocolate is something that I can't part ways.  Luckily, there is one thing that keeps me away from my chocolate addiction, and that is the cost associated with it. Thus it is imperative to take a close look at your harmful eating habits that are costing you your life and your money.
Let's highlight some of the unhealthiest Lifestyle habits that are costing us our health and our wealth.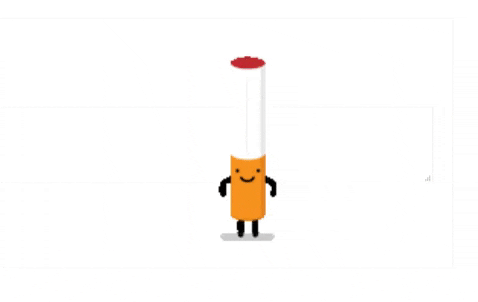 SMOKING: It can seriously be injurious to health.
The data snapshot taken below from the Center for Disease Control highlights the number around Cigarette Smoking in the US. Do you know the cost associated with smoking a pack of cigarette a day?
Source: https://www.cdc.gov/tobacco/data_statistics/fact_sheets/fast_facts/index.htm#us-smoking
Let me take a moment to answer the question. Per the Centers for Disease Control and Prevention, the average cost of a pack of cigarette is around $6.28. Here is the math.
| | | |
| --- | --- | --- |
| Average Cost of Cigarette | Number of Days | Cost |
| $6.28 | Monthly (30 days) | $188.40 |
| $6.28 | Yearly(365 days) | $2,292 per year |
| $6.28 | Monthly (30 days) | $22,920 |
The costs go up depending on where you live as you may be paying even more. Now, these are the direct costs associated with smoking. To find the total cost of tobacco, we need to factor in the indirect cost associated with smoking. Smokers incur further health and dental expenses plus money lost due to loss of work caused by smoking.  Having said all this, wouldn't it be best to take the money lost and put that into an interest-bearing account to make more money. I suppose the best way to deal with the problem is to quit smoking altogether. The Center for Disease control highlights the many ways you can quit smoking. I highly recommend you to check out their website for more details.
FAST FOOD – A fast paced, fast-food lifestyle can be devastating to our health.
Do you like eating at a fast-food restaurant? If you like I answered yes to the question then both you and I are both unaware of the fact that the budget-friendly appeal is diminishing by the day. Most fast-food restaurants are enticing consumers with their dollar cheeseburgers and chicken nuggets deal, but your savings end there. The influx of fast-casual restaurants like Chipotle and Five Guys allowed consumers to close to $10.00 per meal, thus altering consumer behavior and their spending habits.
Here is the math. According to Wellio, it is nearly five times more expensive to order food at a restaurant as compared to cooking at home. Alternatively, if you prefer a meal kit service, it is almost three times as expensive as cooking from scratch you cook at home. So,  I suppose the best solution to be smart and healthier is to end up with a healthier home-cooked meal because you know that the meal will be fresh, cost-effective and tailored to your preference.
ALCOHOL: Beware, Alcohol can affect your body, lifestyle and mental health.
Now alcohol consumption is not that bad of a deal when it comes to living a healthy lifestyle. Studies show that consuming alcohol in moderation can be useful for your health. However, drinking excessive alcohol can have a severe toll on your health. Research suggests that people that consume alcohol frequently can suffer from heart disease, liver disease, and diabetes than non-alcoholics.
Let's do the math, if you consume three alcoholic drinks a day, five days a week, at an average of $10 a glass. You are spending around $150 a week, that is $650 per month or $7800 a year. Now if you limit your drinks just to weekends, the cost runs you around $2,500 a year.
This analysis excludes the indirect damages of alcohol, which may or may not include tips to the bartender or expense associated with driving you back home. These real costs are more of an eye-opener, a polite and straightforward gesture to save some money is to say "No Thank You" to alcohol. If alcohol addiction has become a severe problem for you, The National Institute on Alcohol Abuse and Alcoholism is the right place to seek treatment choices that are available to you.
If you like the article, feel free to comment below. For more articles feel free to visit  Saveprofits.com. Hope to see you again.